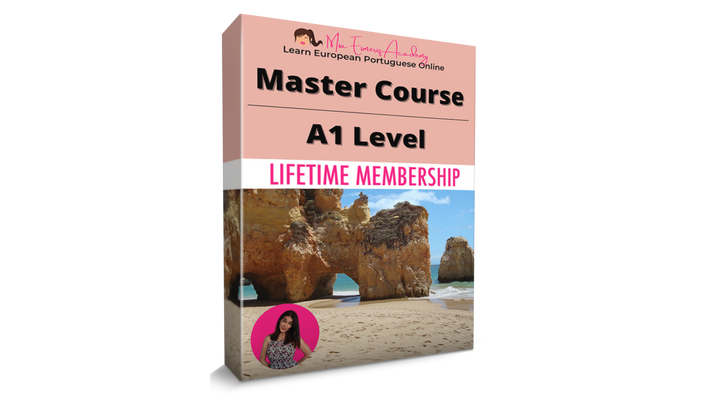 European Portuguese Master Course | A1 Level
Tailored for total beginners, this course will kick-start your Portuguese journey!
Watch Promo
Do Any of These Problems Sound Familiar To YOU?

"I work with Portuguese people and I need the language to be included in the projects and the team"

"I moved to Portugal and I feel isolated due to the language barrier"

"I want to understand and participate in conversations with my Portuguese friends"

"My partner is Portuguese and I want to learn his/her language"

"I am looking for a European Portuguese course but many materials are in Brazilian Portuguese"

"I want to learn Portuguese but I am missing motivation - I need a structured course to lead the way"

"I have had Portuguese classes before, but I need a teacher who can motivate and understand me"

"I would like to enrol in a structured Portuguese course but all the ones I find are too expensive"

"I live in a place where no Portuguese classes are available"

"I want to learn Portuguese but I cannot commute to go to class"

"I want to take a Portuguese course online that has the same quality as a face-to-face class"

"Languages are my big passion and Portuguese is next on my list"

"The Portuguese culture fascinates me and I want to explore the language"

"I want to laugh about the Portuguese jokes that my colleagues tell at work"
Have YOU found yourself in one of the statements above? Then I have the solution for YOU!
It took me several months and hours of studying and putting together the best materials for YOU, but finally I did it!
The A1 Level of my European Portuguese Online Course will give YOU the basis to learn this beautiful language in a fun, stressless way!
I believe it will make your life 10 or 20 times easier and it will help you become fluent in European Portuguese much faster, so all my work was totally worth it!
I built it in such a way that what would take you several days to study, can now be done in the course of just a few lectures.
Benefits You will get out of this Course:
It is a European Portuguese course, so you will not be learning the more-common-to-find-but-not-what-you-want Brazilian Portuguese;

It is totally online, so you will not have to commute to a classroom and you can fit the classes into your schedule;

It is much less expensive than most courses available (online or on-sight), so you can spare the extra money for other things that are also important in your life;

It is taught by a highly-qualified teacher, so you will not be missing out on quality (even if the price is low!).
Why my Students Love this Course:
Perfect for Beginners

Structured in several lectures to make your learning process easier

Watch as often as you want

Pause course while taking notes

Lifetime access

Great price/quality ratio

30-Day Money Back Guarantee
BUT DON'T JUST TAKE MY WORD FOR IT. HERE ARE SOME TESTIMONIALS FROM MY CURRENT STUDENTS:







But before you get started, let me ask you a question...Would you like to get access to my A1 European Portuguese Language Course?
Think about it...for less than the cost of a fancy meal for two in most famous cities, you can get acess to everything inside of the A1 European Portuguese online course.
Now, while I know it would be impossible to show you ALL of the benefits of this course, I want to show you some of the things that you'll experience as soon as you're on the inside:
9 Video Lectures (9 hours in total) in which you will learn everything you need to start your Portuguese adventure in the best way possible!
Material: The slides for each lesson can be downloaded as a PDF, so you can take your notes directly there. The filmed lectures can also be downloaded, so you can watch it offline.
Fun Quiz: All of the 9 lectures come with a quiz that will help you practise what you have learnt.
Discussion-Forum: You can leave your comments to each lecture in the comment section and discuss with other students about your progress, your questions, etc.
E-Mail Support: In case you have any questions concerning the course or the content, you can always send me an e-mail and I will reply to you as soon as possible.
PLUS: You will get the Bonus Lecture | Ultimate Pronunciation Guide:

This is a step-by-step pronunciation guide that I put together myself based on my 10-year experience with the difficulties that students encounter when trying to speak Portuguese.
Course Curriculum
A1 Level - Total Beginners
Available in days
days after you enroll
What to Expect With This Course
Available in days
days after you enroll
Lecture 1
Available in days
days after you enroll
The normal price for this package is $169 because I put so much effort into it and I believe that my course has enough value to cost this, or much more! Just think how much you normally pay for just one lesson...

Now, if all paying this price did was to make you feel motivated to learn and start you in the journey to become fluent in Portuguese, would it be worth it? If all it did was let you communicate, work and make friends and have closer relationships with Portugal, would it be worth it?
If you answered YES, I want to make you an offer.
Since all I want is for everyone to be able to access my course, I am not going to charge you $169, I am only going to charge you $139.
Now, if you are like me and you still are not sure because you never tried a course online, and you are not sure how you are going to adapt to it, or something similar... don't worry!
I am going to take on all the risk, and give you my 30-Day Money Back Guarantee!
But You Must Act Now Because this Offer is Only Available for the First 100 Students that Sign-Up to My Course.
Just imagine how much easier and/or pleasurable your life will be after you can speak Portuguese fluently!
So click on the button below right now, and you'll be taken to a secure order form. After you put in your credit card/ paypal information, you'll be taken to a secure members' area, where you can watch and download the A1 Level of my European Portuguese Online Course, even if it's 2 a.m.!
So, what do you decide?

Do you want to continue the old way, trying to learn Portuguese by yourself or with a Brazilian course (expecting it to be enough to speak and understand European Portuguese) or with a teacher/ course that did not take you far in your language journey?
OR do you want to take your Portuguese to the next level and become fluent in much less time than you ever dreamed of?
IT IS UP TO YOU TO CHANGE FOR THE BETTER TODAY!
I trust you, I know you can do it and I hope you do.
See, for me it does not matter if you buy the course now or not. I will still be here teaching and I will still have a lot of students to share my knowledge with!
However, I believe that if you join my course, you will be really giving a well-deserved gift to yourself. You will be taking measures into your hands and you will be one step closer to your ultimate goal: to become a fluent speaker of European Portuguese!
This is why I developed my course: to help students from all over the world to achieve fluency in Portuguese, no matter their background!
If you don't do it and you decide to continue the old way, it is likely that nothing will change and you might be preventing yourself from ever learning this language.
I know it sounds kind of harsh, but I think you'll agree with me.
Remember: with this course you will complete the A1 Level PLUS you will get the Ultimate Pronunciation Guide for free if you are one of the first 100 students to sign up.
To purchase the course, choose your preferred currency (USD or EUR) and simply click the button "Click Here To Buy Now!" below, which will lead you to our secure website where you can pay by credit card or PayPal (for payments in USD only). Don't forget: In case you are not happy with the course you have a 30-Day Money Back Guarantee. No risk included!
Your Instructor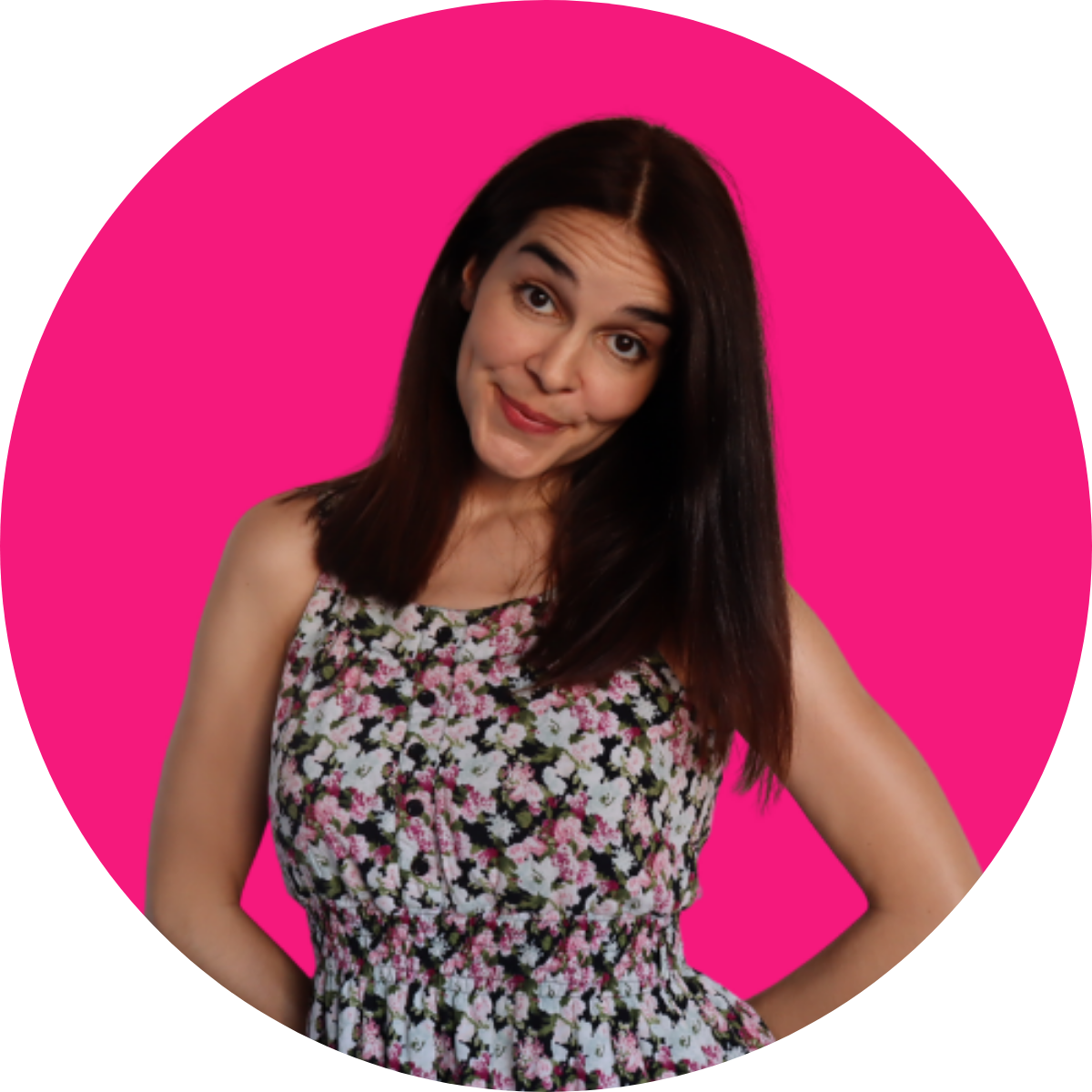 Olá! I am Mia, and I have been teaching Portuguese for more than a decade now. From a young age, I loved languages, and I knew that I wanted to become a teacher pretty early on. So I did. I taught Portuguese and English to children in state schools, but I just knew that was not yet what I dreamed to do.
After coming back from The Netherlands, where I lived for three years, I did not know what to do. I had a master degree in teaching Portuguese as a Second Language, but I had no job and things were not so easy here in Portugal to get one.
I was at a loss, but actually that is when everything started to change: I started teaching one-on-one classes online and soon I realised that people really enjoyed what I did! More and more, I had students coming to me and asking me to give them classes.
So I came up with an idea: I would build my own online school and create courses online, that could reach more people and help students become fluent in Portuguese!
And this is how Mia Esmeriz Academy was created! I studied and studied, I learnt a lot of new skills to be able to teach online and I put together years of experience and hours of commitment that culminated in my online courses!
Just come with me in this adventure and don't forget to have fun while learning Portuguese :)
Frequently Asked Questions
When does the course start and finish?
The course starts now and never ends! It is a completely self-paced online course - you decide when you start and when you finish.
How long do I have access to the course?
How does lifetime access sound? After enrolling, you have unlimited access to this course for as long as you like - across any and all devices you own.
What if I am unhappy with the course?
We would never want you to be unhappy! If you are unsatisfied with your purchase, contact us in the first 30 days after purchase and we will give you a full refund.
What is the price of the A1-Course?
The price is $139 (+VAT). This is a one-time payment and there are no further monthly/yearly cost.
Can I download the content to access it offline?
You can download the PDF slides to take notes and to go through it offline.
What Course Levels are available?
At the moment, the A1, A2, B1 and B2 Levels are available. Soon there will also be the C Levels available.
Are there any practice exercises included?
Yes, the course includes exercises which will be discussed in the video lectures. There are also quizzes at the end of each lecture.
What if I have questions?
You can either send an email to
[email protected]
and I will answer you as soon as possible or you can ask your questions directly in the course forum. There, you can also discuss topics with other students.
Why do I have to pay VAT?
Depending on the country you are based in, you might be subject to VAT (tax). Unfortunately, we don't have any influence over this and the money goes directly to the state.