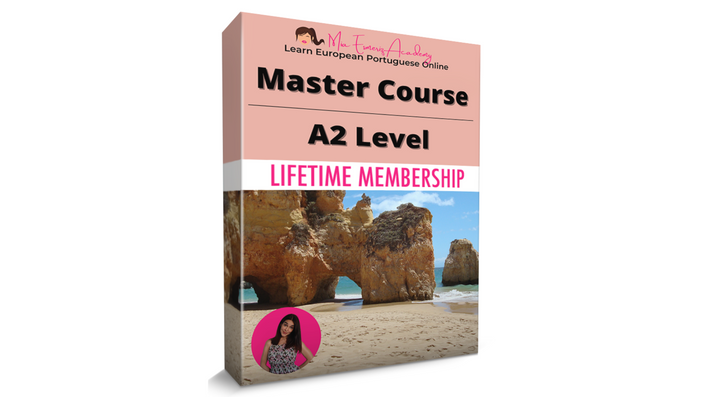 European Portuguese Master Course | A2 Level
Tailored for upper beginners, this course will broaden your knowledge of the Portuguese language, building on the A1-Level.
Watch Promo
This is my brand new Learn European Portuguese Online Course. The level of the course is A2 and it consists of 12 individual lectures. With this course you will have access to all lessons.
You can download the slides of each lecture and take your own notes. Each lesson comes with a quiz so you can practice your knowledge.

A2-Course Outline
Lecture 1:
ask and give information about yourself;
use the Imperfect tense of the verbs;
describe things in the past;
ask things politely;
describe your day-to-day activities and things you usually do;
describe your personal and physical characteristics.
Lecture 2:

use the Personal Infinitive of the verbs;
use the Impersonal Infinitive of the verbs;
use the Imperative vs the Infinitive;
further practice and use the tenses learnt;
speak about the objects in your house;
relate certain nouns to their verbs;
put the right stress on words.
Lecture 3:

express an opinion;
make comparisons;
speak about an action that happened before another in the past;
conjugate and use the "Pretérito Mais-que-Perfeito composto";
use certain prefixes and learn their meaning;
use the past participle of the verbs;
tell the story of what happened in the past.
Lecture 4:
speak about future events;
conjugate Futuro Imperfeito do Indicativo;
use the form Ir + Infinitive;
formulate questions that express doubt;
use vocabulary about the weather.
Lecture 5:
use the conditional;
understand the relation between the conditional and the Imperfect forms;
use vocabulary about food;
use the reported speech correctly.
Lecture 6:
speak about events that started in the past and continue in the present;
use "Pretérito Perfeito Composto do Indicativo";
use connectors like porque, quando, por causa de, como, pois and mas;
use vocabulary about sports.
Lecture 7:
speak about health problems;
schedule a doctor´s appointment;
speak about alternative medicines;
use the invariable relative pronouns – que/ quem/ onde;
use Personal Pronouns in the correct place in the sentence;
use à and há correctly;
use words with the same writing, but different meanings and pronunciation: homógrafas;
use words with the same writing and pronunciation, but different meanings: parónimas.
Lecture 8:
use the past participle correctly – double participles;
use the passive voice;
use Verbs + Infinitive – andar a; voltar a; etc.
use synonyms;
use different expressions;
use words with the same pronunciation, but that are written differently and have a different meaning.
Lecture 9:
use the pronoun contraction (Direct + Indirect pronouns);
know the difference between certain similar verbs – saber vs conhecer; conseguir vs poder; tentar vs experimentar vs provar;
know the names of the different stores;
know where to buy different products;
understand the different sounds of the letter "g".
Lecture 10:
know the different holidays in Portugal;
use the gerund;
know and use substantivos coletivos;
know and use words ending in –eiro, -or and -ista;
know and use words with e and i;
recognize similar words.
Lecture 11:

use some typical words and expressions from Oporto (Porto);
use more vocabulary – similar words;
use the greeting forms correctly – você? Tu? O senhor?
know the main differences between Brazilian Portuguese and European Portuguese.
Lecture 12:

use the variable relative pronouns;
understand some Portuguese expressions;
use ir + Gerúndio;
identify the African countries that speak Portuguese;
identify African words from Portuguese speaking countries and know their European Portuguese meanings;
understand and answer questions about a text.
Just come try it out!
Number of lectures: 12 Lectures
Duration of course: around 9.5 hours in total / 35-60 minutes per lecture

Please note that this is the A2 Course for Beginners [Full Course, Lectures 1-12]. This Course builds up on the A1 Level, which you can also find in the Course Section.
Course Curriculum
A2 Course - Beginners Level
Available in days
days after you enroll
What to Expect With This Course
Available in days
days after you enroll
Your Instructor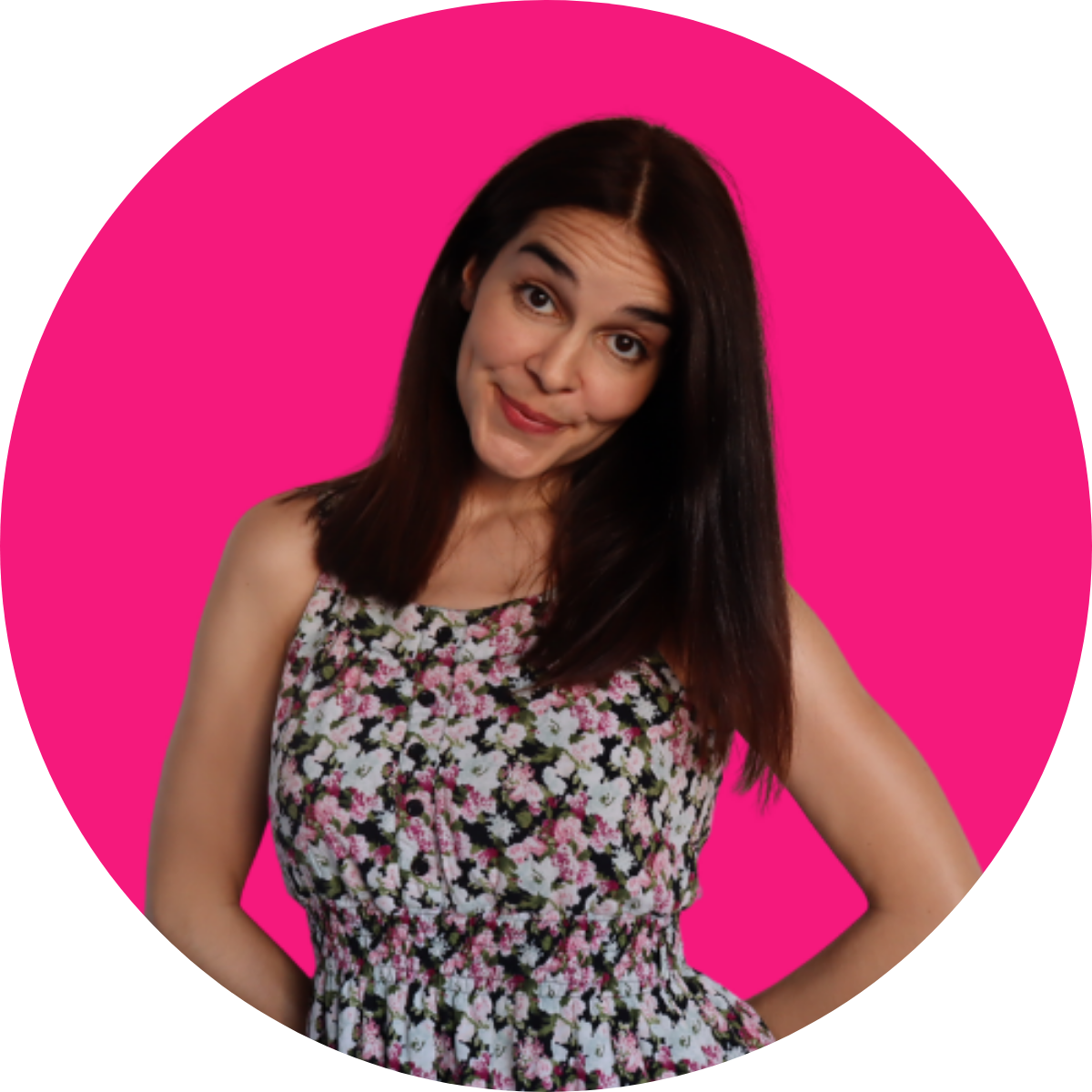 Olá! I am Mia, and I have been teaching Portuguese for more than a decade now. From a young age, I loved languages, and I knew that I wanted to become a teacher pretty early on. So I did. I taught Portuguese and English to children in state schools, but I just knew that was not yet what I dreamed to do.
After coming back from The Netherlands, where I lived for three years, I did not know what to do. I had a master degree in teaching Portuguese as a Second Language, but I had no job and things were not so easy here in Portugal to get one.
I was at a loss, but actually that is when everything started to change: I started teaching one-on-one classes online and soon I realised that people really enjoyed what I did! More and more, I had students coming to me and asking me to give them classes.
So I came up with an idea: I would build my own online school and create courses online, that could reach more people and help students become fluent in Portuguese!
And this is how Mia Esmeriz Academy was created! I studied and studied, I learnt a lot of new skills to be able to teach online and I put together years of experience and hours of commitment that culminated in my online courses!
Just come with me in this adventure and don't forget to have fun while learning Portuguese :)
Frequently Asked Questions
When does the course start and finish?
The course starts now and never ends! It is a completely self-paced online course - you decide when you start and when you finish.
How long do I have access to the course?
How does lifetime access sound? After enrolling, you have unlimited access to this course for as long as you like - across any and all devices you own.
What if I am unhappy with the course?
We would never want you to be unhappy! If you are unsatisfied with your purchase, contact us in the first 30 days and we will give you a full refund.
What is the price of the A2-Course?
The price is $139 (+VAT). This is a one-time payment and there are no further monthly/yearly cost.
Can I download the content to access it offline?
You can download the PDF slides to take notes and to go through it offline.
What Course Levels are available?
At the moment, the A1, A2, B1 and B2 Levels are available. Soon there will also be the C Levels available.
Are there any practice exercises included?
Yes, the course includes exercises which will be discussed in the video lectures. There are also quizzes at the end of each lecture.
What if I have questions?
You can either send an email to
[email protected]
and I will answer you as soon as possible or you can ask your questions directly in the course forum. There, you can also discuss topics with other students.
Why do I have to pay VAT?
Depending on the country you are based in, you might be subject to VAT (tax). Unfortunately, we don't have any influence over this and the money goes directly to the state.